Keswick View - Covid Information
Keswick View - Covid Information
Keswick View - Covid Information
Covid-19 – Good to Go
Following UK government and industry guidelines, we have introduced extra cleaning and social distancing measures to ensure that you fully enjoy your stay at Keswick View.  These measures comply with VisitEngland's 'Good to Go' standard.  Measures include disinfection of work surfaces and regular contact points during changeovers between guests.  Our Covid-19 guidance for guests provides further information.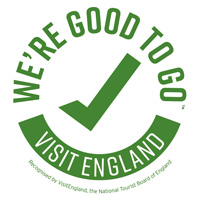 Covid-19 – Booking Guarantee
To provide reassurance, we guarantee that you will not lose your deposit or balance payment if you are unable to take your holiday due to Covid-related restrictions.  
Should your booking be affected by local or regional Covid-related restrictions, you may rearrange your booking to new dates at no cost, subject to the relevant new tariff.  All payments made will be transferred towards the new booking. 
Alternatively, you may choose to receive a full refund instead.